Wake up America!
31 Mar, 2021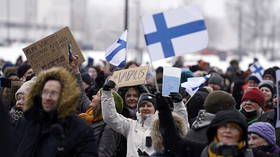 People in Helsinki protest against Finnish government's coronavirus restrictions. © Reuters / Antti Aimo-Koivisto
Finland's government has withdrawn a proposal to impose strict lockdowns in five cities, including the capital Helsinki. PM Sanna Marin has accepted the measures were deemed illegal by the country's constitutional law committee.
Due to objections by the Committee on Constitutional Affairs, "the government is of the opinion that… the proposal for temporary restriction of freedom of movement and close contacts must be withdrawn from the Parliament," Marin announced in a Twitter post on Wednesday.
Read more:
https://www.rt.com/news/519762-finland-coronavirus-lockdown-withdrawn/