@USSenate
FIGHT BACK DAMMIT!! WE'VE WAITED ALMOST 3 YEARS FOR THIS!!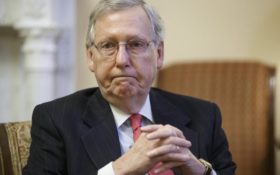 [WARNING] Mitch McConnell about to "screw up" Trump impeachment
DECEMBER 12, 2019
Senate Republicans are about to "screw up" the impeachment trial of President Donald Trump, experts are warning.
According to The Washington Examiner, Senate Majority Leader Mitch McConnell won't call any friendly witnesses on behalf of the president.
And he's not planning to offer any defense.
His strategy will be to simply let Democrats "rattle on and on" and, when they're finished, call a vote. Republican senators reportedly don't have the "appetite" to call controversial witnesses.
In fact, there may be no witnesses at all.
"Senate Republicans do not expect to call witnesses President Trump might want to hear from most in an impeachment trial, conceding there are not the votes to summon key figures such as Hunter Biden and the unidentified government whistleblower whose complaint sparked the process," The Washington Examiner reported.
Senate rules require a majority vote to call witnesses to testify at an impeachment trial. Republicans currently control 53 of the 100 seats in the Senate, giving them just two votes to spare.
Fearing political embarrassment, McConnell and his Republican colleagues said they don't want to risk calling witnesses that Democrats had previously blocked during the House impeachment hearing.
Read more and more important, VOTE!!
https://thehornnews.com/warning-mitch-mcconnell-about-to-screw-up-trump-impeachment/