The newly created "Select Committee on Benghazi," led by Republican Congressman Trey Gowdy, will hold its first public hearing on Benghazi today at 10:00 a.m.
The Democrats don't think we need a new committee, however, and they've created a new website instead titled, Benghazi on the Record: Asked and Answered:
Benghazi on the Record was prepared at the request of Rep. Elijah E. Cummings, the Ranking Member of the Select Committee on Benghazi, to collect—in one place—as much information as possible regarding questions that have already been asked and answered about the attacks in Benghazi.
Everything you need to know we want to tell you about Benghazi in one easy place!
Oddly, the website doesn't tell us where President Obama was during the attack or what Ambassador Stevens was doing at a poorly guarded diplomatic mission on the anniversary of 9/11. So, maybe another hearing might make some sense.
You can tune in at 9:32 a.m. on C-SPAN 3 to hear Dems talk about their new propaganda site, if you're so inclined. The actual hearing starts at 10:00 a.m., also on C-SPAN 3. Or you can watch online. Details:
READ MORE, FIND VIDEO LINKS: http://twitchy.com/2014/09/17/everything-you-need-to-know-for-todays-benghazi-hearing/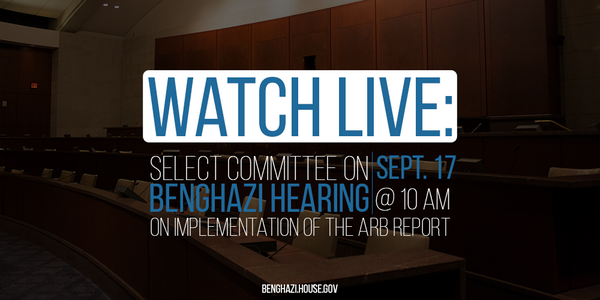 Fast forward to 25:46 runtime 2:59:00 http://www.ustream.tv/recorded/52774772 Part 1
http://www.ustream.tv/recorded/52779416 Part 2
'Matter of urgency' ignored? Sharyl Attkisson interprets troubling testimony at Benghazi hearing
During today's House Select Committee on Benghazi hearing, Assistant Secretary of State for Diplomatic Security Greg Starr testified that the creation of an "under secretary" for diplomatic security position, which was one of the recommendations after the Benghazi attack, has not yet been done, and that there are no plans to do so.
Investigative journalist Sharyl Attkisson was amazed:
SEE MORE: http://twitchy.com/2014/09/17/matter-of-urgency-ignored-sharyl-attkisson-interprets-troubling-testimony-at-benghazi-hearing/