Last year saw the City of Chicago reportedly post the fewest homicides since 1965, and the Second Amendment Foundation says one plausible explanation for at least part of the decline is because criminals can no longer be certain that their intended victim is not legally armed.
Notice the signiture, Rham Emanual!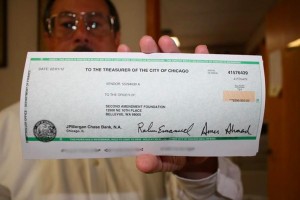 Since SAF's landmark Supreme Court victory in the 2010 McDonald v. City of Chicago case that nullified the 30-year-old handgun ban in the city, increasing numbers of law-abiding citizens have obtained firearms for personal protection, noted SAF Executive Vice President Alan Gottlieb.
"For three decades," he said, "street thugs essentially enjoyed a risk-free environment in the Windy City. That changed, thanks to a series of court victories stemming from SAF's win in the McDonald case. That forced the city to enter the 21st Century and rejoin the United States where the right to keep and bear arms is protected by the Second Amendment.
"Surveys have repeatedly revealed that predatory criminals fear armed citizens," he added. "Just the thought that an intended victim might be armed, and willing to fight back, tends to discourage some of these outlaws.
More: http://www.thegunmag.com/chicago-homicides-down-as-criminal-fears-of-armed-citizens-rise/